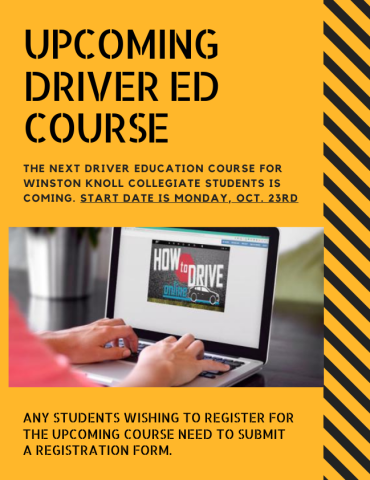 The first Driver Education class for Winston Knoll Collegiate students will start on Monday, October 23, 2023. Registration forms and program information can be obtained by visiting the Main School Office. Students must be 15 years old by the class start date in order to be eligible to take the course.
Students can bring their completed forms to the office once they are 15 years old.
The Driver Education Instructor will notify students directly if they have been accepted into the course.
Click here

for the Driver's Education Form
A SGI customer number is required to enrol in any high school driver education course. This can be done well in advance of being enrolled in driver education. Changes effective Feb. 24, 2020 also require a photo to be captured when the customer number is issued. The photo being captured at the time of the initial visit is to protect the identity of SGI customers. This makes the ID more secure and improves SGI's ability to prevent fraudulent activity and identity theft.
More information on how to obtain your SGI customer number can be found HERE.
Future Driver Education classes for WKC students are listed below. The Driver Education class takes place Monday to Thursday from 3:30 - 6:00 p.m. (*PLEASE NOTE the dates listed below may be subject to change).
          - Class #2: Monday, November 27th to Thursday, December 14th
          - Class #3: Monday, January 8th to Thursday, January 25th
          - Class #4: Monday, April 22nd to Thursday, May 9th
          - Class #5: Monday, May 27th to Thursday, June 13th