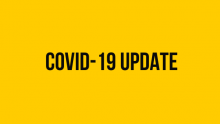 November 29, 2020 – the Saskatchewan Health Authority informed us that there was one case of COVID-19 in an individual at Winston Knoll Collegiate. 
For the safety of students and staff, and in consultation with Public Health, we have informed all close contacts and provided them information about self-isolation. The affected students will begin remote learning on December 1st and will not return to the school until December 10, as long as they are symptom-free.
We have also contacted all school families by automated telephone call to inform them.
Letters will be sent to all school families on Monday, November 30th